http://www.ijirset.com/upload/2022/june/79_Confluence_NC.pdfhttp://www.ijirset.com/upload/2022/june/79_Confluence_NC.pdf
Art is like a horizon that has no end. It is so vast, so wide that it contains many genres in itself, only then did the poet's
mind said-
'Sahitya, sangeetah, kala viheenh, sakshat pashuh pukshchh vishaanheenh'
'Literary Music Artless man is like true animals without tail'
Art is the most important of all efforts made by humans to attain happiness and knowledge.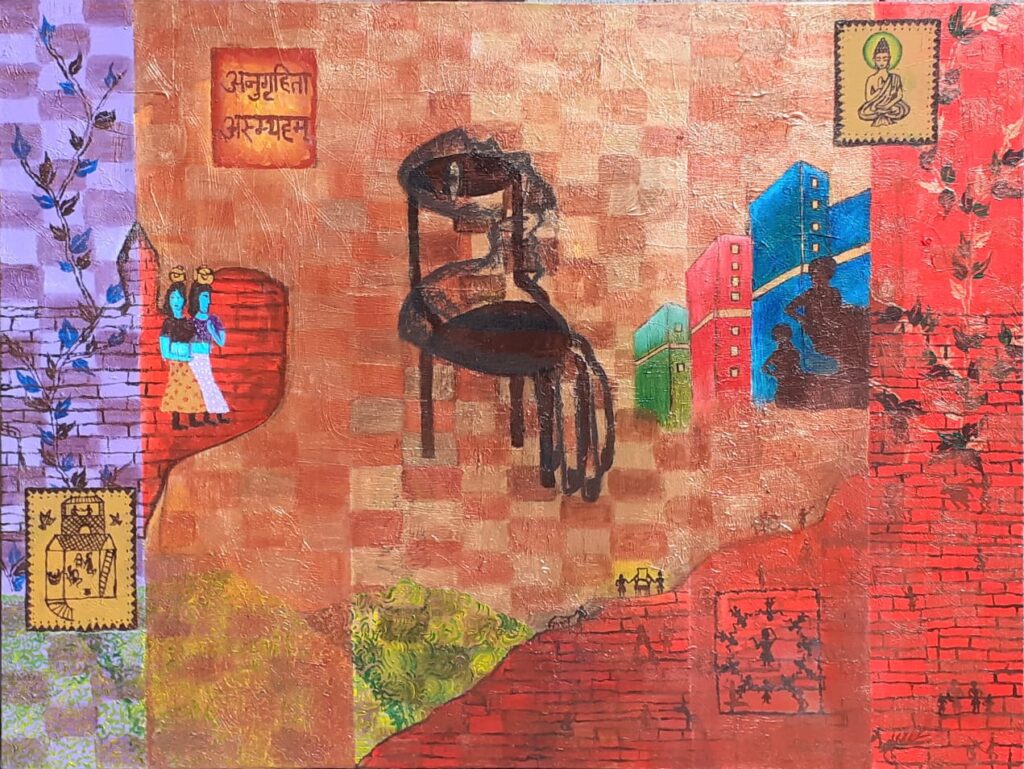 Confluence of traditional and contemporary art – 2
ABSTRACT: During my various art writings, when I studied deeply the works of Ramkinkar Baij, Nandlal Basu,
Picasso, Henry Moore, and other eminent artists, I found that in these entire artist's great artworks, there is the
contribution of traditional and tribal arts. Without becoming proficient in the arts that we inherit from tradition; when
we start diving in the ocean of modern art, then somewhere our art skills are left behind. Many times the artist himself
does not even know by which process he can make his artwork more impressive, so this article can give a vision to all
those students and artists also. Apart from all this, it is also my interest to do an in-depth study on this subject to
understand this topic more firmly because we cannot deny the importance of traditional art in the culture of a country,
but in such a situation contemporary art also serves to connect global cultures. Therefore, contemporary art frees an
artist from the shackles of time and space and elevates him to the heights of spirituality, making it even more important
for the artist to understand both.
At the same time, I see its separation from traditional art as the reason why contemporary art does not reach the hearts
of ordinary people. Thus because of realizing its importance from different aspects, I decided to write and create many
works of art on this subject.
KEYWORD(S): Visual Arts, Indian Traditional Art, Contemporary Arts, Art and Culture, Art Education
I. INTRODUCTION
This paper is discussing the combination and confluence of elements of contemporary art and various Indian arts. This
paper shows the need and importance of contemporary art along with the importance of tribal art in the Indian social
and cultural environment.
The art is carrier of Stya, Shiva, and Sundara, has importance in many ways in life. It makes us feel the fragrance of life
in the mechanical world and it is successful in giving that pleasure so that you can easily enter that unconscious mind
which is elaborately explained by the name of quantum physics or quantum mechanics.
Here we will go into a brief about the overall artistic history of India, which I have come to know through my academic
study of art so far; it is hardly possible to read it so comprehensively anywhere else. This will not only help you to
understand the artistic richness of India but perhaps also know how contemporary art has made its place in the world.
This paper also includes the Indian dimensions of the drawings of art.
II. ACCORDING TO INDIAN SCRIPTURES, THE RULES OF PAINTING
In the Natyashastra Bharata Muni clarified that "there is no such knowledge, no craft, no discipline, which is not art."
"Art is a means of expressing the primordial being." – Hegel
A complete scientific explanation of art and beauty has been given by Indians in Vedic culture as well; Like the human
body, how many Taal (measures) are there in the body of a woman and man, what aspects make the picture observable
in combination with an ideal picture, and the colour combination and their effects have been explained in an elemental
way. Be it the Khajuraho sculpture or the Iron Pillar of the Qutub complex; India is considered a leader in the world in
terms of technical and ancient architecture.
In Vishnudharmottara Purana about painting artworks written –
Kalanam Pravaram Chitram Dharmarth Kaam Mokshadam,
Mangalya Pratham Dotad Grihe Yatra Pratishtam.
That is, painting is the highest of the arts in which Dharma, Artha, Kama, and Moksha are attained. Therefore, the
presence of auspicious is always considered in the house where the prestige of the pictures is high. Yashodhar Pandit in
his book Jayamangala has given a detailed discussion of the six limbs of art so that you can paint a picture as a
complete picture. This is a unique measure in the Indian art world that no one can deny.